$6,520 Safari Special Includes 1 night Fairmont The Norfolk Hotel, 2 nights Fairmont Mount Kenya Safari Club, 2 nights The Cliff, 3 nights Hammerkop Migration Camp, 3 nights The Sands at Nomad, Game Drives, Hot Air Balloon Safari, Airport Transfers
Apart from playing part host to the annual "wildlife show" that is the incredible Great Migration, the beautiful East African country of Kenya offers so many other reasons to fall in love with it. I've chosen where to take you to experience one of the greatest wildlife viewing countries in the world, a bird lover's delight, Home to some of the friendliest people with Rich culture and World Class beautiful beaches and underwater worlds. The Equator Experience.
Day 1: Fairmont The Norfolk Hotel
Day 2, 3: Fairmont Mount Kenya Safari Club
Day 4, 5: The Cliff
Day 6, 7, 8: Hammerkop Migration Camp
Day 9, 10, 11: The Sands at Nomads
Day 12: Depart
Full Itinerary

DAY 1: Nairobi
Upon arrival at Nairobi at Jomo Kenyatta International Airport, you'll clear passport control and customs before being met by your driver and transferred to Fairmont The Norfolk Hotel. Kenya's vibrant capital is your safari starting point. A luxurious city retreat since opening in 1904, Fairmont The Norfolk is a sophisticated spot amid tranquil, tropical gardens. This elegant city oasis has long been a high-society rendezvous. Your evening is at leisure. Overnight at Fairmont The Norfolk Hotel on a bed and breakfast basis.
DAY 2: Mount Kenya
After breakfast the Guide/Driver will drive you North to the prestigious Fairmont Mount Kenya Safari Club, a celebrity haven since movie star William Holden founded his exclusive club here in 1959. Set among sprawling landscaped gardens, this secluded spot on the slopes of Africa's second-highest mountain has played host to such luminaries as Sir Winston Churchill and Bing Crosby. Enjoy spectacular mountain views and experience the buzz of driving a ball across the equator on the hotel's manicured nine-hole golf course. Overnight at Fairmont Mount Kenya Safari Club on a full board basis.

DAY 3: Mount Kenya
A resident naturalist guides you on an exhilarating nature walk along the River Likki, where you can keep your eyes peeled for swooping hornbills or red-winged starlings. You'll also visit Mount Kenya Wildlife Conservancy, which shelters the endangered mountain bongo and has been rescuing orphaned and injured wild animals since 1967.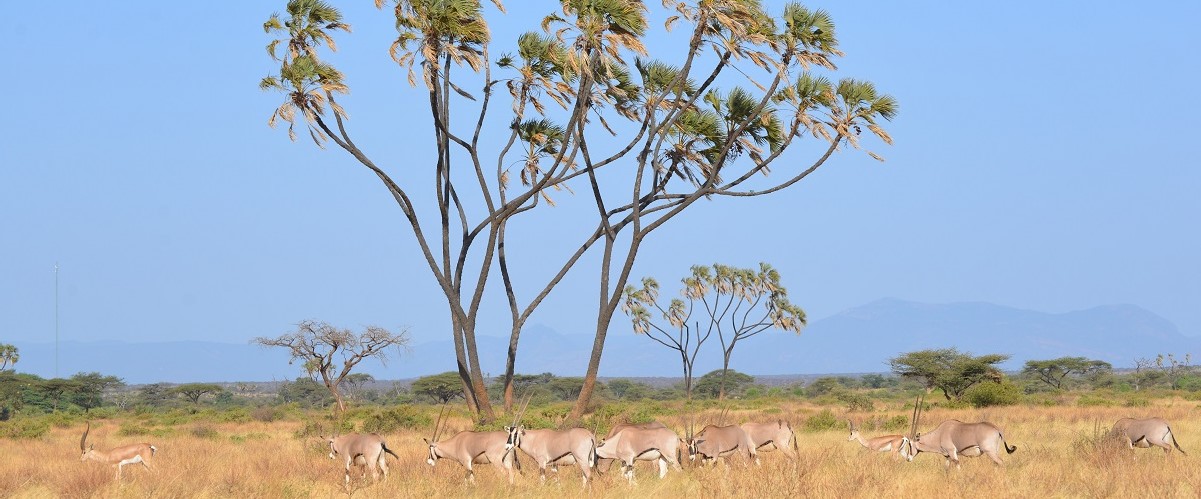 Following a lunch of locally farmed specialties at Tusks restaurant, which also offers fabulous views of Mount Kenya's dramatic peak, you can arrange optional activities such as game viewing on horseback. Or how about simply taking in the scenery with a chilled, handcrafted cocktail by the pool? After dark, savor fine cuisine and the atmospheric sounds of the wild with an unforgettable evening of riverside bush dining. Back at the hotel, share memories of the day over a nightcap beside a roaring fire. Overnight at Fairmont Mount Kenya Safari Club on a full board basis.
DAY 4, 5: Lake Nakuru
After breakfast we will give a safari briefing then depart Nairobi driving down south towards the Great Rift Valley.
This is Kenya's Lake Nakuru, a soda lake nestled into the ancient Rift Valley and a feeding ground for thousands of flamingos. Only two and a half hours from Kenya's capital, Nairobi, the lake is protected by the surrounding national park, a mix of woodlands, bush, Savannah and volcanic cliffs that make it a perfect habitat for four of Africa's Big Five. Lake Nakuru National Park attracts bird watchers, and those looking for wilderness not too far from Nairobi.

Perched at the top of a 100 meter high rock face sits Lake Nakuru's newest and smartest addition - The Cliff – a 10 room luxury camp due to open in April 2018. While 'luxury camp' is the simplest description, in reality The Cliff defies conventional labels, being a combination of safari lodge, tented camp and boutique hotel, constructed and furnished in a contemporary European style.

It would be easy for a guest at The Cliff to spend the day gazing at the view from the comfort of the elegant tent, but there's more to do around Lake Nakuru. Get up early and go on a game drive in the open-sided Land Cruisers, and perhaps see a leopard, lion, buffalo, rhino or a rare Rothschild's giraffe. Hippo can also be sighted around the lake, and for birdwatchers, Lake Nakuru National Park is birdwatcher's paradise with its incredible bird variety including the famous pink flamingos.

If guests prefer their game drive as the sun goes down they might like to visit the gym before breakfast, relax by the infinity pool with a cold drink just before lunch and have a soothing massage in the spa before heading out at 4 pm. While the day is busy, the pace itself is tranquil, the only disturbance (if you can call it that) being the calls from the nearby fauna. Overnight at The Cliff (Lunch, Dinner, Breakfast).

DAY 6: Maasai Mara
After an early breakfast in the Club we depart and drive to Maasai Mara Game Reserve to arrive at Hammerkop Migration Camp in the early afternoon for check in. Lunch in the camp followed by an afternoon at leisure before evening game drive. With only 7 exclusive tents, Hammerkop Migration is an intimate safari camp in the heart of the world-renowned Masai Mara National Reserve. Accessible only by air or 4×4, the camp is perfect for calm wildlife photography away from the congested areas of the park. The safari camp is set on an oxbow of the legendary Mara river, surrounding it except for the short opening that acts as entry to the site. Overnight at Hammerkop Migration Camp (Lunch, Dinner, Breakfast)

DAY 7, 8: Maasai Mara
Two full days in the Mara with morning and afternoon game drives. This 650 sq. kilometer reserve supports the highest density of game to be seen anywhere considering its size. The reserve is home to all the "big five" and it is also possible to observe; baboon, eland, ostrich, bat-eared fox, jackal, Cheetah, and the rivers abound with hippos and crocodiles.

Hammerkop Migration Camp is located within the inner region of the Masai Mara National Reserve. The area thrives with wildlife and birds, and your game drives commence immediately you leave the unfenced camp with barely any distance covered before reaching the prime wildlife viewing areas. The area itself is famous for leopards. Overnight at Hammerkop Migration Camp (3 Lunches, 2 Dinners, 2 Breakfasts)

DAY 9: Diani Beach
After breakfast we have a Morning Game Drive following an early lunch, guests will then be transferred to the nearest airstrip for a scheduled flight to Ukunda. Upon arrival, guests will be met and transferred to The Sands at Nomad, combination of discretion, tranquility and warmth with the privilege of the award winning Diani Beach.
Nestled into 26 Acres of pristine coastal forest The Sands at Nomad steps away from the traditional block hotel concept, into an atmosphere of space, freedom and personal care.Overnight at The Sands at Nomad (Dinner, Breakfast)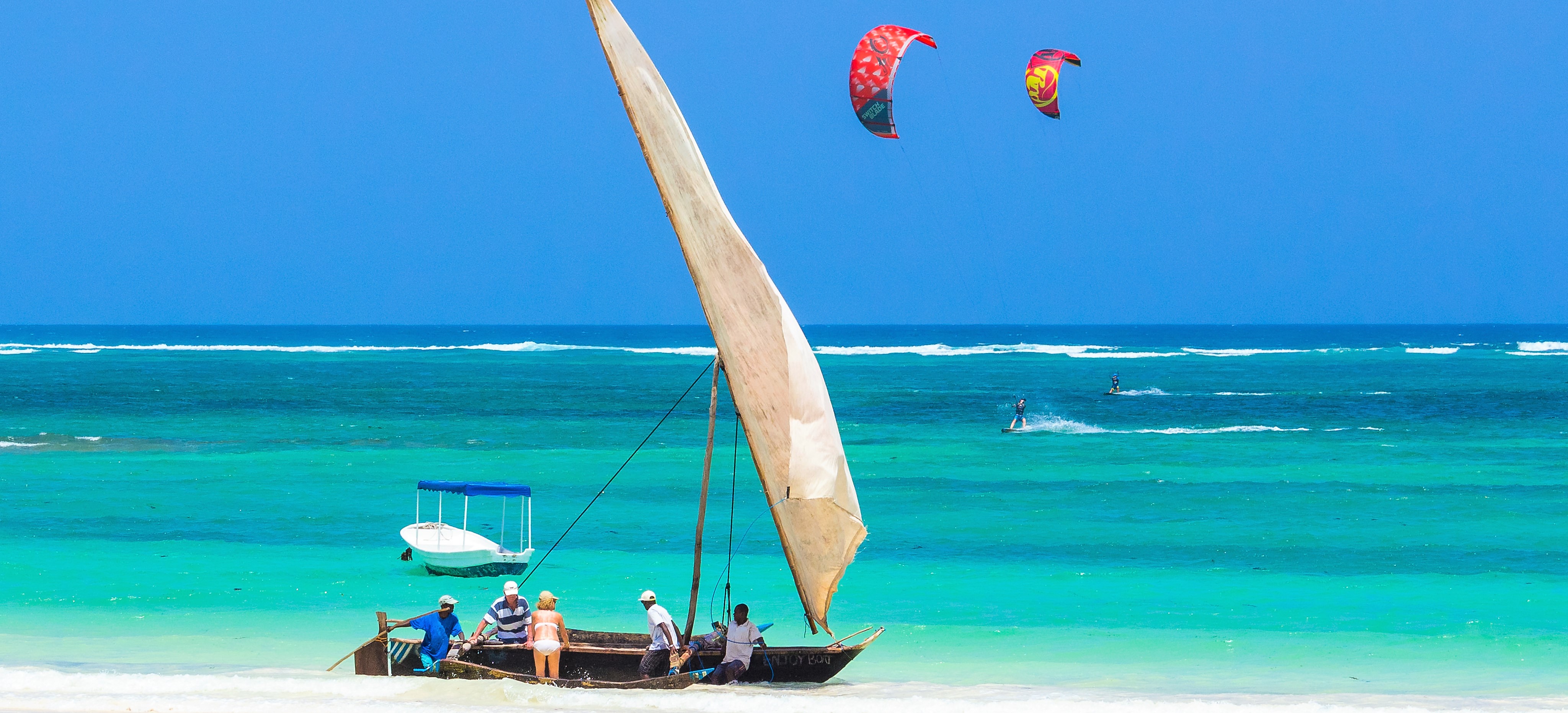 DAY 10, 11: Diani Beach
Spend the day at leisure with variety of activities to choose from such as walking on the white beaches' boat rides' scuba diving' water sport activities' golf at the leisure lodge or enjoy the daylight by the beach side. Diani is a tropical paradise on the coast of the Kenyan safari land. Overnight at The Sands at Nomad (2 Lunches, 2 Dinners, 1 Breakfast)

DAY 12: Nairobi Depart
After breakfast the day is at leisure for last minute shopping and lunch in Diani before catching a flight back to Nairobi in the afternoon. Afternoon at leisure. Later in the evening you will be transferred to the International airport for your flight home. (Breakfast, Lunch)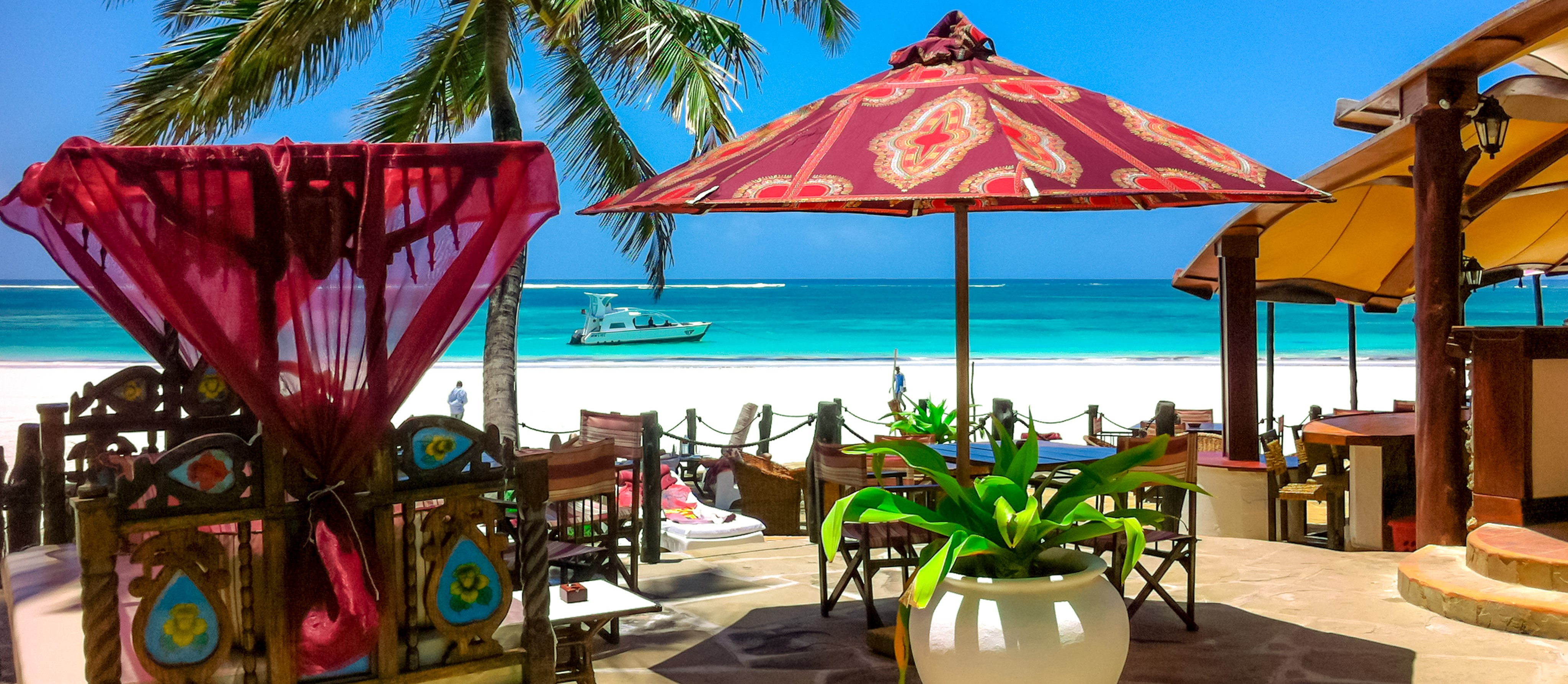 WHAT"S INCLUDED

Scheduled Flights from Mara to Diani and back to Nairobi
Hot Air Balloon Safari over the Mara with Champagne Breakfast
Airport Transfers
1 Night Fairmont The Norfolk Hotel
1 Night The Cliff, Lake Nakuru
3 Nights Hammerkop Migration Camp
3 Nights The Sands at Nomad
All Meals while on safari
Game Drives as per itinerary in Safari Cruiser
Services of English speaking Safari Driver Guides
All Park Fees and activities as mentioned in the itinerary
Experience of a Lifetime!
NOT INCLUDED
International flights
Add on air from other US cities
Any meals or services not mentioned above
All items of personal use i.e. drinks, laundry, telephone calls, personal travel insurances- etc.
June 2022
$6,720 per person sharing in a double/twin
$8,130 per person in single room

July, August, September, October 2022
$7,550 per person sharing in a double/twin
$9,320 per person in single room
November, December 2022
$6,520 per person sharing in a double/twin
$7,720 per person in single room

January, February, March 2023
$7,240 per person sharing in a double/twin
$8,770 per person in single room
April, May 2023
$6,410 per person sharing in a double/twin
$7,530 per person in single room
June 2023
$6,720 per person sharing in a double/twin
$8,130 per person in single room
Prices are in US Dollars and are per person based on double occupancy accommodations.

View Virtual Itinerary